Magnesium sulphate monohydrate: More than 30 years of magnesium sulphate fertilizer manufacturers
Other name: Kieserite
Size: Powder of 10-100 mesh; Micro granule of 0.1-2mm; Granule of 2-5mm
Purity: T.MgO and W.MgO
Package: 50kg pp bag with or without pallet.
Color: White/yellowish white /blue/red/green (Color can customized)
MOQ: 1*20FCL
We are magnesium sulphate manufacturer , for magnesium sulphate monohydrate have a special production workshop with an annual output of up to 30000 tons/Year.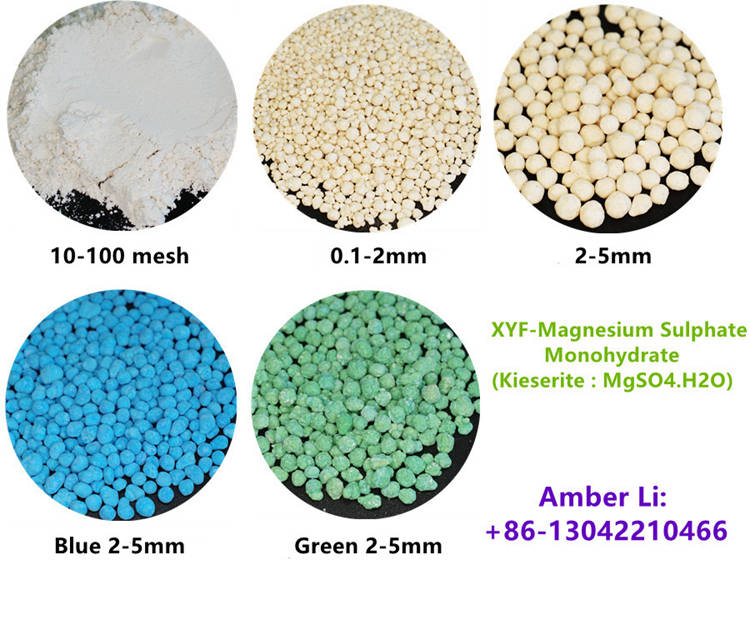 This is a dual-element compound fertilizer, for magnesium sulphate fertilizer benefits it is widely used in agriculture and forestry.
It is often used directly as base fertilizer in agriculture. In the early stage of crop production, it is sprinkled in the soil, and each time it is watered, the fertility is slowly released to achieve a long-term effective fertility supply.
In forestry, it is often used as the base fertilizer for palm, coconut, oil palm and other tall trees. Because Southeast Asia purchases more magnesium sulphate monohydrate.
For magnesium sulphate fertilizer benefits, it is slowly released, with a release cycle of up to 5-6 months.