Product information:
Wholesale lawn fertilizer suppliers: Blue granule / Green granule/ White granule
Size: 10-100 mesh, 0.1-2mm, 2-5mm
For the color size we have blue, green , the MOQ is 300 tons. Other colors can customizable.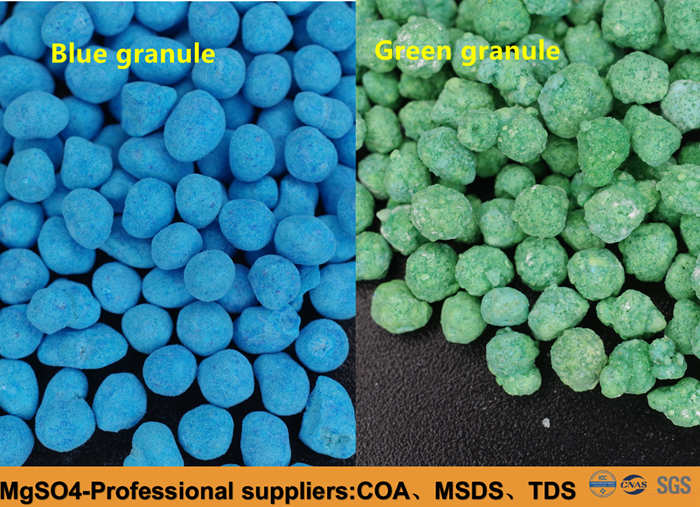 Packaging Details
1) Bulk;
2) 25kg/pp bag;
3) 50kg/pp bag;
4) 1000kg Jumbo bag;
5) 25kg/bag plus jumbo bag;
6) According to customer's requirement;
(Remark: with or without pallets)
Usage
Magnesium sulfate is a kind of double nutrient fertilizer (containing Mg and S), which is widely used in agriculture and forestry. Sulfur and magnesium are the medium elements of crops, and they are the fifth and sixth major nutrient elements of crops. It can be mixed with other fertilizers or used alone, as basal fertilizer, top application and leaf fertilizer. Both in the traditional agriculture, and high value-added fine agriculture, flowers, and soil free cultivation.
Fertilizer magnesium sulphate soluble is mainly used as base fertilizer. It can be directly sprinkled on the surface of crops by hand and sprinkled with a thin layer of soil. The effect will be released slowly, according to the feedback from our customers, the slowest is three months. It can improve the soil quality and increase the magnesium content of the soil,Magnesium can submit the plumpness of fruit and increase the synthesis of chlorophyll.
Factory
1) Convenient location:Tianjin XingYu Fertilizer Industry Co., Ltd. (Referred to as XYF), is founded in 1993. As XYF is located in Jinghai District, Tianjin City, 80 kilometers away from Tianjin port.
2) Long history:XYF is a large-scale manufacturer, which is an enterprise supported by the school in 1993. After years of upgrading and survival, our company has persisted in a number of enterprises until now and has rich production experience, our main product is Magnesium Sulphate anhydrous, Magnesium Sulphate Monohydrate (wholesale lawn fertilizer suppliers). And we also have color products, for colors need customizable, the MOQ is 300 TONS
4) High quality raw materials:Our company has developed its own high-quality magnesium mine base in Liaoning Province, using high-quality sulfuric acid as raw material, and equipped with modern experimental testing equipment.