Product information:
1. Name: Inorganic fertilizer production water soluble fertilizer manufacturer
2. Size:0.1-1mm (We also have 1-3mm, 2-4mm, 4-7mm)
3. Purity: 98%, 99%, 99.5%
4. Package: 25kg/pp bag with or without pallet;
25kg/plus jumbo bag
1000 kg jumbo bag or 1100kg/1250kg jumbo bag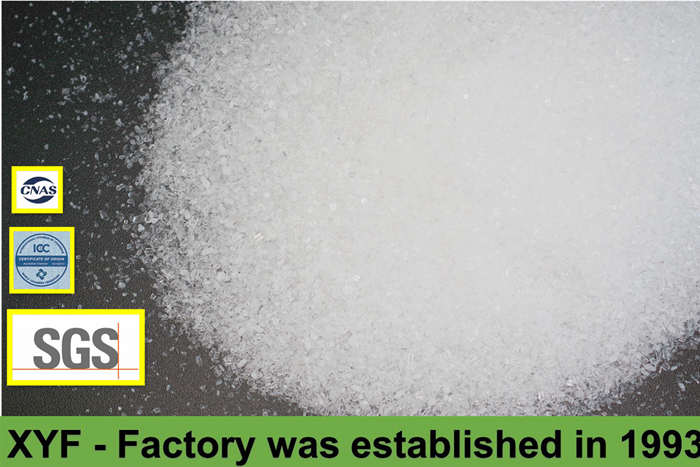 Use: Magnesium sulphate fertilizer uses
1) In light industry, it is used to produce fresh yeast, monosodium glutamate, beverage, mineral water, health salt, sea crystal and calcium hydrogen phosphate stabilizer in toothpaste production.
2) In food additives, it is used as nutrition supplement, curing agent, flavor enhancer and processing aid;
3) In agriculture, magnesium sulfate is a kind of double nutrient fertilizer with high quality (containing Mg and S). Sulfur and magnesium are the medium elements of crops, and they are the fifth and sixth major nutrient elements of crops. They can not only increase the yield of crops, but also improve the taste of fruits. Magnesium is a component of chlorophyll and pigment. It is the only metal element in chlorophyll. Magnesium can promote photosynthesis and the formation of carbohydrate, protein and fat.
4) In environmental protection, it is used for industrial sewage treatment.
Test for Magnesium sulphate fertilizer uses:
Step one: Weight magnesium sulphate heptahydrate ' sample
Step two: Pour the sample into the conica flask then, add the distilling water
Step three: Measure ammoina chloride then put it in the sample solution
Step four:Take chrome black T indicator into the sample solution and shake well, then Measure EDTA solution by graduated pipettes
Step five: Read the amount of EDTA, then Calculate the result
Factory: Magnesium sulphate fertilizer uses
Tianjin Xingyu Fertilizer Industry Co.,Ltd. is a manufacturer of magnesium sulphate. Established factory in 1993s. We are locaded in Jinghai Tianjin, China. Near by Tianjin port, have convenient geographical advantages.
Our main product is magnesium sulphate anhydrous, magnesium sulphate monohydrate, magnesium sulphate heptahydrate (Inorganic fertilizer production) . For these three products, we have their own workshop .
Welcome to inquiry.