Product Information:
Name: Magnesium sulphate heptahydrate suppliers
Other Name: Magnesium sulphate suppliers
MF: MgSO4.7H2O
Purity: 99%min
Size: 1-3mm
CAS NO.: 10034-99-8
Appearance: White Crystal granular
Packaging details: Magnesium sulphate heptahydrate suppliers
For shipping via containers: 25kg/PP bag, with neutral English marks, OR 1000kg or 1200kg jumbo bag.
For shippping via bulk vessel: 25kg/ PP bag into 1250kg jumbo bag.
We can also customized the packaging of mgso4 as the customers' requirement. We can make the packaging with your logo and your design, also with different colors and notices.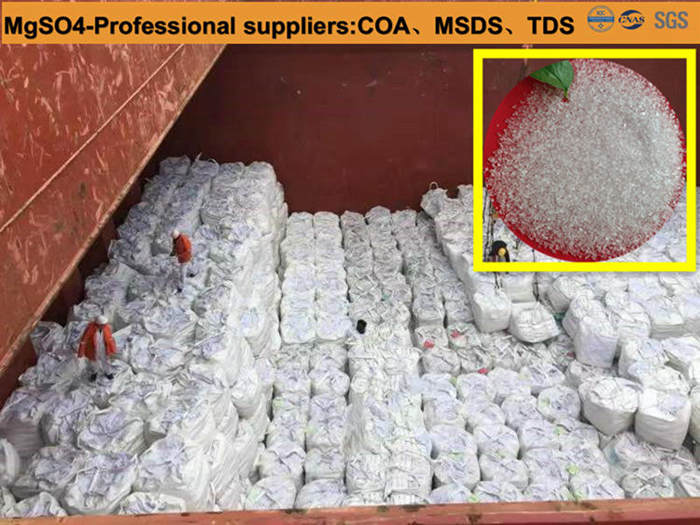 Application:
In agriculture, magnesium sulphate heptahydrate suppliers is a dual-nutrient high-quality fertilizer (containing Mg and S). Sulfur and magnesium are both the middle elements of crops and the fifth and sixth nutrient elements of crops, not only for fruit trees.
Magnezijum sulfat heptahidrat mg2so4 7h2o is used as a processing aid and filler in the leather industry, which can make the leather softer, promote the bonding between the tanning agent and the cortex, improve the quality of the leather, and at the same time enhance the heat resistance of the leather.
In the light industry, Magnesium sulphate suppliers is used as a stabilizer for the production of fresh yeast, monosodium glutamate, beverages, mineral water, health-care salt, sea crystal, Yukang, "Borton" beer and calcium hydrogen phosphate in the production of toothpaste.
In the building materials industry, industrial grade magnesium sulphate mgso4 heptahydrate can be used in the production of fireproof boards, external wall insulation boards, door core boards, magnesium sulphate boards, magnezijum sulfat heptahidrat board, and so on.
Company / Factory Profile:
Tianjin Xingyu Fertilizer Industry Co., Ltd., is a magnesium sulphate suppliers in China. We are specilized in agricultural grade and industrial grade magnesium sulphate, especially mgso4 heptahydrate.
Our factory, which is founded in 1993, is located in Tianjin City, which is near Tianjin port, a major bulk vessel port. It is only 80 kilometers from our factory to Tianjin Port.