Product Information:
Name: Magnesium sulphate heptahydrate
Other Name: Magnesium sulphate heptahydrate price,
mg sulfate heptahydrate
MF: MgSO4.7H2O / mgso4 x 7h20
Purity: 99%min
Size: 4-7mm
CAS NO.: 10034-99-8
Appearance: White Crystal granular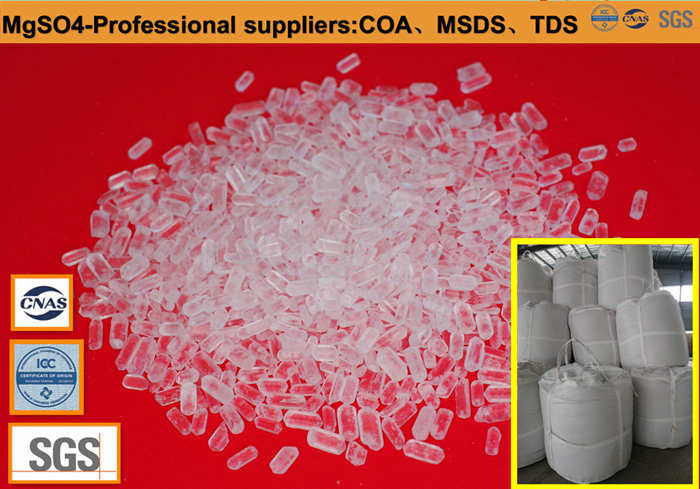 Mg sulfate heptahydratePackaging Details:
1) 25kg/pp bag, or 50kg/pp bag;
2) 1000kg Jumbo bag, OR 1250kg big bag;
3) 25kg/bag plus jumbo bag;
4) According to customer's requirement;
For shipping via containers, 25kg bags, 50kg bags, or 1000kg bags are all acceptable. They can also be with or without pallets.
For shipping via bulk vessel, 1000kg bags and 25kg/bags into big bag are both ok. We recommend that you choose 25kg bag+big bag, to protect the goods from damage.

Mg sulfate heptahydrateApplication:
Mg sulfate heptahydrate (Magnesium sulphate heptahydrate price,mg sulfate heptahydrate), also known as thiobitter, bitter salt, laxative salt, is white or colorless needle or inclined column crystal, odorless, cool and slightly bitter, easily soluble in water, slightly soluble in ethanol or glycerin. This product does not contain any toxic substances. magnesium sulphate heptahydrate price
FAQ:
1. Q: Which kinds of Magnesium Sulphate products do you provide?
XYF:
Fertilizer: Magnesium Sulphate Heptahydrate Fertilizer, Magnesium Sulphate anhydrate Fertilizer, Magnesium Sulphate Monohydrate fertilizer, kieserite; magnesium sulphate heptahydrate price
Feed Additive: Magnesium Sulphate Monohydrate Feed Additive;
Body care products: bath Epsom salt/English salt.
2. Q: Is it possible to customize packaging with our own design? Can I customize the packaging?
XYF:
Yes, of course, we can customize the packaging as your requirement. You just need to send us the drawings or design, and then you can get your own packing. Normally the MOQ for OEM packing is 25 metric tons. Besides, we can also customize the shipping mark label for you.
Factory and Company Profile:
(1) Tianjin Xingyu Fertilizer Industry Co., Ltd is founded in

1993

and located in Tianjin, China.
(2) Our main products are

magnesium sulphate anhydrous,

Mg sulfate heptahydrate, magnesium sulphate monohydrate; kieserite, Magnesium sulphate heptahydrate price.
(3) We have an excellent

ISO

management system and several professional production lines after

28 years

of unremitting efforts and continuous development.
We sincerely hopes to establish a mutually beneficial and win-win cooperation relationship with you!