Product information:
Name: Magnesium sulphate 7h2o
MF: MgSO4.7H2O
Purity: 99%min
Size: 2-4mm
CAS NO.: 10034-99-8
Appearance: White Crystal granular

Application:
Magnesium sulphate 7h2o is the center element of chlorophyll, photosynthes can't go on without it. It is the activating agent of many enzymes, it can promote the metabolism of carohydrates, nucleic acid synthesis, the conversion of phosphate, etc. It involves in the synthesis of proteins as an element of multi-core proteins, it's the transmission medium of genes as part of the composition of genes. magnesium sulphate price
Packaging Details of magnesium sulphate 7h2o
1) 25kg/pp bag, OR 50kg/pp bag;
2) 1000kg Jumbo bag, OR 1250kg big bag;
3) 25kg/bag plus jumbo bag;
4) According to customer's requirement;
(Remark: with or without pallets; the packaging also can be customized as the customers' request)
Factory and Company Profile:
(1) Tianjin Xingyu Fertilizer Industry Co., Ltd is founded in 1993 and located in Tianjin, China.
(2) Our main products are magnesium sulphate anhydrous, sulfate magnesium heptahydrate, magnesium sulphate monohydrate, and kieserite. magnesium sulphate price
(3) We have obtained the certification of quality management system. Complies with the requirement of GB/T1990-2016/ISO 9001: 2015. Besides, we also have SGS testing report, and heavy metal testing report issued by a third-party testing agency.
We sincerely hopes to establish a mutually beneficial and win-win cooperation relationship with you!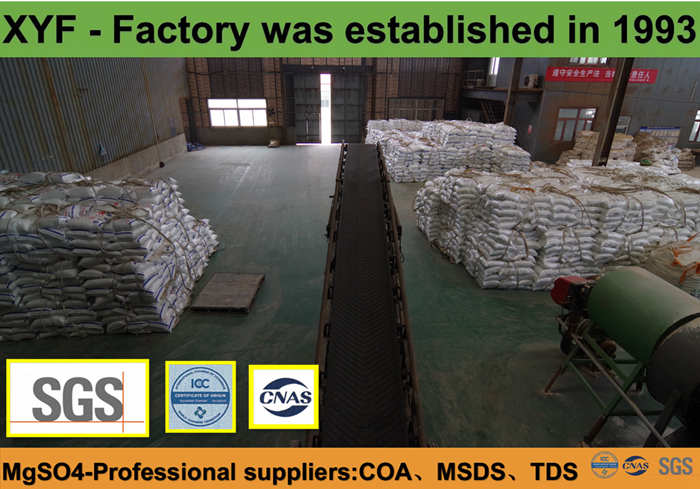 FAQ:
Q: How do you control the quality of magnesium sulphate 7h2o?
XYF: magnesium sulphate price
We control the quality through monitoring in the matrial, production and loading.
1) We control the quality of raw material by using good matrials.
2) Each shippment choose some samples to test every day.
3) Our technicians test each lot cargo before they leave factory.
4) There will be specialist supervise loading.
5) We will optionally choose some lot cargo to test quanlity by the third party.
6) You can also ask for preshipment inspection by third party when loading.