Delivery journal - 15th, July., 2023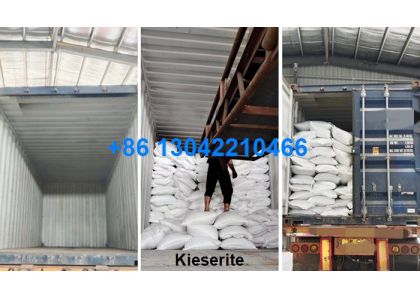 Our factory has loaded 10 20'GP containers of magnesium sulfate granular kieserite, which is 27.5 tons per container, totally 275 tons. These goods will be transported to Lat Krabang Thailand. If there is no weight limit at the destination port, a 20'GP container can hold up to 27.5 tons without pallets. If with pallets, a 20'GP container can hold 25 tons.
Product Name: Magnesium sulfate granular kieserite
Appearance: Off-white granule
Size: 2-5 mm
CAS No.: 14567-64-7
Purity: T.MgO 25%min, W.MgO 20%min, S 16%min
Quantity: 275 MT
Packaging: 50kg bags with English mark
Sailing date: At the end of July.
Port of shipment: Tianjin, China
Port of destination: Lat Krabang, Thailand
Means of transport: Via containers by sea.
Agriculture is a traditional industry in Thailand and plays an important role in the national economy. Its main agricultural products include rice, natural rubber, cassava, corn, sugarcane, and tropical fruits, all of which require magnesium. Therefore, Thai customers will purchase a large number of magnesium sulfate granular kieserite as fertilizers.